Vodafone First UK Network To Offer Android Market Billing
Vodafone have rolled out operator billing within the android market. What this means is you can purchase apps on android and have the charge sent directly to your network, who will bill you for the purchase from your phone bill or prepay account.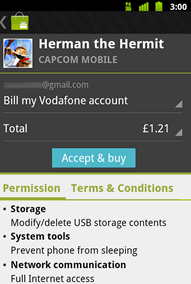 It will only be available to those Vodafone customers who purchased their phone through Vodafone directly. This means you probably won't get it if you got your Vodafone contract from a third part like Carphone Warehouse or Phones4U (on the plus side, if you did you won't have to deal with crappy bloatware and a locked device).
19 August 2011. Vodafone developer today announces the first rollout in Europe of direct operator billing for Android Market. Vodafone UK and Vodafone Germany will help consumers purchase their favourite apps and games on Android Market even more easily without the need to enter credit card details. This will give developers direct access to millions of Android users who can now charge their Android Market purchases straight to their phone bills or prepay accounts. The service will initially be available to users who have purchased their devices through Vodafone online and retail channels, making the potential for app purchase even greater for developers. This evolution in Android app payment greatly improves the user's purchase experience & consequently their likelihood of completing a sale. In addition to facilitating the best possible user experience, Vodafone operator billing extends your reach to the large number of app buying customers who are unwilling or unable to use credit cards. In some countries this can be more than 90% of the market.