Video Shootout: SGSIII vs One X vs One S vs Galaxy Note
As we explained in our camera shootout post, mobile phones are fast overtaking the need for a separate digital camera. This is true for photos, and with the latest smartphones recording at 1080p quality, its fast becoming true for videos too. Below we've uploaded a 30 second clip recorded at 1080p for each of the four phones on test, that is the Samsung Galaxy Note, HTC One X, HTC One S and the Samsung Galaxy SIII.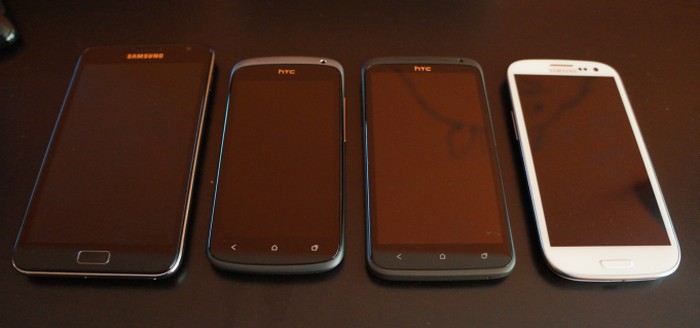 Samsung Galaxy Note
The Samsung Galaxy Note recorded the loudest sound on test, that's great but we sort of wish it was a but more muted like the other recordings, its possibly too loud.. However the video was smooth and sharp, a good showing from the Note.
HTC One S
The HTC One S was probably the quietest recording we took, the video was smooth however the image did seem somewhat more fuzzy than the other phones. We also noticed that the camera didn't seem sure what to focus on, with the cars passing at the front slightly fuzzy. The general recoding seemed less sharp than the others on test too.
HTC One X
The HTC One X provided a similar quality as the One S, although possibly slightly sharper and a bit smoother (perhaps..). We did notice the same issue with the cars and focus however.
Samsung Galaxy SIII
The Samsung Galaxy SIII seemed to offer a mixture of the One X and the Galaxy Note. The sound was more akin to the HTC recording than the Galaxy Note thankfully. But the image did keep the smooth and sharp nature of its younger (but larger) brother.
We should also note that out of the 4 phones on test, only the Samsung Galaxy Note and Galaxy SIII recorded at an average of 30fps. The One X actually averaged only 23 fps with the One S reaching 28 fps.
Which is the best? Well, go ahead and take a look to see for yourself!