Soundhound or Shazam? Spotify Has The Answer
If like me, you struggle to pick between Soundhound and Shazam for identifying unknown music you like the sound of, then Spotify may just have swayed your decision, as they did mine!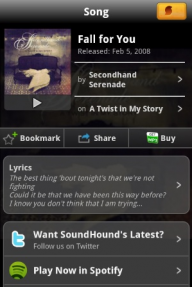 The Soundhound app for android has been updated to allow you to play the recognised song instantly in the Spotify android app. This is great news for Spotify users, as normally I would have to take note of the song and manually search for it in Spotify. Not any longer!
You can grab the Spotify android app here, and the Soundhound android app here!
We're delighted to let you know that Spotify is now available for SoundHound's apps on iPhone, iPod touch and Android in Europe. Just tap the new "Play Now in Spotify" feature to go direct from Soundhound to our Spotify Mobile apps where Spotify Premium subscribers can immediately listen to the full track and explore more music from the tagged artist. One of SoundHound's feature that we just love is that you can hum or sing a song into your phone and they'll identify it for you. So get your best singing voice ready and download SoundHound now.