Sony Ericsson Live With Walkman Announced
Sony Ericsson have just announced a new android phone name "Sony Ericsson Live with Walkman". As you can tell from the name, Sony Ericsson are introducing the Walkman name with this new handset, the first android phone to carry the brand. The phone itself looks quite nice, all in white, if not a little chunky from the images..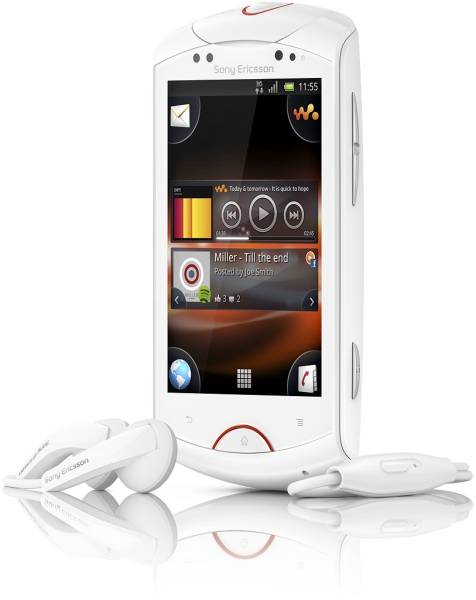 The phone has a 3.2" screen and single core 1Ghz CPU. It looks to be a mid-range phone specs wise, but the Walkman branding makes me think Sony Ericsson will price this as if it was a high-end phone. If so, this may be as popular as the SE Xperia Play, which was also way overpriced for what it brought. It does ship with gingerbread which is a plus though.
22 August 2011, London, UK – Sony Ericsson today announced Sony Ericsson Live with Walkman™, an Android smartphone that delivers a unique social music experience. A dedicated Walkman™ hardware button provides instant access to the music player and consumers can also like, share and discover content through a deep Facebook™ integration. The infinite button lets the consumer explore even more and the *Qriocity service from Sony provides music and video content for the consumer to enjoy. With attractive curved design, a glossy finish and a mineral glass display, the phone has a 3.2" screen and a powerful 1Ghz processor. A front facing camera is enabled for Skype video calling, while a 5MP AF camera can capture 720p HD video recording. *Sony's xLOUD™ enhances audio output, while the latest Android platform for smartphones (Gingerbread 2.3) provides access to over 250,000 applications on the Android Market™. Nikolaus Scheurer, Head of Product Marketing, Sony Ericsson said: "Consumers want smartphones to deliver a rich and social entertainment experience. Rather than a one dimensional music experience, they want instant and seamless access to new content, combined with the ability to share and connect with their friends. The Sony Ericsson Live with Walkman™ provides exactly this, in a powerful package with great style." A perfect combination of social networking and music entertainment: Deep Facebook™ integration: Allows users to instantly access Facebook through the most used areas of the phone such as the picture gallery, music player, phonebook and calendar. Media Discovery Application: A dynamic application placing the world of music and videos at consumer's fingertips including Facebook™ recommendations from their friends. Infinite button: Tapping it within the media player enables consumers to have instant access to new content about their favourite artist, such as music videos, artist information and lyrics search. Qriocity music and video content services from Sony: Consumers can access millions of songs from all major labels and watch thousands of movies from all major studios. Only Sony Ericsson Android smartphones provide consumers with unique access to the entertainment services from *Sony. *Sony's xLOUD™ technology: Enhances audio output of the inbuilt speakers at high levels. TrackID™: Identifies the music track you are listening to within the FM radio and music player. The track can then instantly be shared or downloaded. Sony Ericsson Live with Walkman™ will be available globally in selected markets from Q4 2011. For full details all products news, please visit the press room and the product blog: http://www.sonyericsson.com/cws/corporate/press/pressreleases/latestnews http://blogs.sonyericsson.com/products/ Sony Ericsson Live with Walkman™ at a glance. *Please note that all services mentioned may not be available in every market. Colours Black and White Facts Size: 56.5 x 106 x 14.2 mm Weight: 115 g Camera 5 megapixel camera 8x digital zoom Auto focus Face detection Flash/Photo light Flash/Photo flash Flash/LED Front-facing camera (VGA) Geo tagging HD video recording (720p) Image stabiliser Red-eye reduction Scene detection Self-timer Send to web Smile detection Touch capture Touch focus Video light Video recording Music Album art Bluetooth™ stereo (A2DP) Music tones (MP3/AAC) PlayNow™ service Stereo speakers TrackID™ music recognition Walkman™ player xLOUD™ Internet Android Market™ Bookmarks Google™ search Google Voice™ Search NeoReader™ barcode scanner Pan & zoom Web browser (WebKit) Communication Call list Conference calls Facebook™ application Google Talk™ Polyphonic ringtones Skype Sony Ericsson Timescape™ Speakerphone Twitter™ (Timescape™ integration) Vibrating alert Video chat ready Messaging Conversations Email Google Mail™ Handwriting recognition Instant messaging Multimedia messaging (MMS) Predictive text input Sound recorder Text messaging (SMS) Type & Send widget Design Auto rotation Four-corner Home screen Keyboard (on-screen, 12-key) Keyboard (on-screen, QWERTY) Live wallpaper Picture wallpaper Touch screen Entertainment 3D games Media browser Radio (FM radio with RDS) Video streaming Video viewing YouTube™ Organiser Alarm clock Calculator Calendar Document readers Emanual Flight mode Google Calendar™ Google Gallery 3D™ Infinite button Phonebook Setup guide Event Timer Widget manager Connectivity 3.5 mm audio jack aGPS Bluetooth™ technology DLNA Certified™ Google Latitude™ Google Maps™ for Mobile Google Maps™ with Street View Media Transfer Protocol support Micro USB support Modem Native USB tethering Synchronisation via Facebook™ Synchronisation via Google™ Sync Synchronisation via Sony Ericsson Sync Synchronisation with computer Synchronisation via Microsoft® Exchange ActiveSync® Synchronisation: Microsoft® Exchange ActiveSync® via Moxier client USB mass storage USB High speed 2.0 support USB support Wi-Fi™ Wi-Fi™ Hotspot functionality Wisepilot™ turn-by-turn navigation Display 3.2 inches 16,777,216 colour TFT 480 x 320 pixels Capacitive touchscreen (multi-touch) Scratch-resistant Memory Phone memory (user-free): Up to 320MB Memory card support: microSD™, up to 32GB Battery life Talk time GSM/GPRS: Up to 14 hrs 15 min* Standby time GSM/GPRS: Up to 600 hrs* Talk time UMTS: Up to 6 hrs 42 min* Standby time UMTS: Up to 850 hrs* Music listening time: Up to 17 hrs 30 min Video listening time: Up to 6 hrs 30 min *According to GSM Association Battery Life Measurement Technique. Battery performance may vary depending on network conditions and configurations, and phone usage. Networks UMTS HSPA 850 (Band V), 1900 (Band II), 2100 (Band I) GSM GPRS/EDGE 850, 900, 1800, 1900 UMTS HSPA 900 (Band VIII), 2100 (Band I) GSM GPRS/EDGE 850, 900, 1800, 1900 In the kit Sony Ericsson Live with Walkman™ 1200 mAh battery stereo headset 2GB microSD™ memory card Charger micro USB cable for charging synchronisation and file transfer user documentation