Samsung vs Apple [Dusseldorf Highlights Edition]
Yesterday saw Apple take to the courts in Germany with their claim that Samsung have infringed upon Apple Intellectual Property, or to put it bluntly, copied the design of the iPad and the iPhone in various Samsung devices including (amongst others) the Galaxy S, SII and Galaxy Tab 10.1.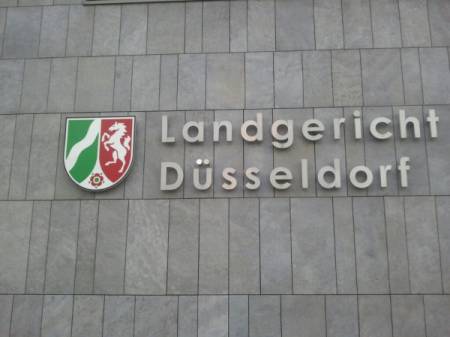 Thanks to @andreasudo, we got to see what was happening live in the court, but if unlike me you were not transfixed to the live tweets, I've merrily summarised the main tweets coming out of the courtroom. Enjoy!
Judge comments on distorted Tab picture now. it was done by mistake Apple has said. it's a sad mistake but has been corrected!
Samsung lawyer: of course the screen of the Tab has a bezel, otherwise you would need separate handles!
Samsung: the tab is different from the ipad on extra design and esthetics. were it is similar it is because of technical practicalities
Apple: prior art claims Samsung in the Netherlands are irrelevant. not sure why, couldn't follow the argument
Apple: you Samsung introduced the product, than tweaked the design more than once
Samsung: You Apple were aware of the exact design of Knight Ridder because Apple participated in the project back in 1994! Oops
Samsung: you are sabotaging this hearing, you are suffering because who are wrong!
I'm not a lawyer, but it sounds like Samsung counsel is pummeling Apple's right now, accusing it of hiding relevant evidence in complaint
Samsung says it has compiled 27 (!) examples of distorted pictures in Apples complaint!!!!
Apple:Â if you continue to allege all these mistakes, we have a legal problem..
Samsung: correct pictures of Tab 10.1 were online from 6 june onwards, so why show the wrong Tab on 4 august?
Samsung: of course Apple knew exactly which product we would be launching when. Apple is just playing a strategic game
Apple (counters): your official pictures of the Tab are computer generated, not real!
Samsung: our picture of Tab is not computer animated, you can not move it. But it might be 'polished'
Apple now claims the official picture of Samsung Tab is basically rigged! Game on photoshoppers!
Apple: you can not print it. And there's unnatural shadow underneath it, to make it more appealing...?
Apple: Samsung even put an disclaimer on the site that the real product could deviate from the picture
BREAKING: judge uphelds preliminary injunction, ruling will be 9 september!!!
hearing is over! once more: court uphelds preliminay injunction, will rul on sept 9
As you can see, the judge upheld the preliminary injunction (that Samsung may not sell certain devices within Germany), and will make a decision on the claim on September 9th. Put it in your calendar!
The offical statement from the court was:
Post-injunction hearing in Community design litigation between Apple and Samsung Chamber 14c of the Düsseldorf Regional Court held a hearing today on Samsung's [post-injunction] opposition to the preliminary injunction ordered at Apple's request on August 9, 2011. The session started with an introduction of the state of affairs in this litigation by the presiding judge and her statement on the 

preliminary

 legal opinion of the Court. According to that position, the Community design presented by Apple has to be considered valid and is infringed by Samsung. That said, the Court reaffirmed doubts about having cross-border jurisdiction over a company domiciled outside the European Union with respect to Europe-wide injunctions. Therefore, the Court has indicated that, after the consultation that took place before the hearing, it tends to uphold the preliminary injunction against Samsung Germany to its full extent and to lift it with respect to Samsung's Korean parent company with respect to markets outside of the Federal Republic of Germany. At the same time, the Court also pointed out that the 

final

 decision can be different from this inclination if one must conclude that there was no sense of urgency for a preliminary injunction, considering that Apple could have moved for a preliminary injunction at an earlier point in time. This could, for example, be the case if it had already been possible in early June 2011 -- as Samsung represented to the Court -- to gather from Samsung's German subsidiary's German-language website based on reliable and easily accessible depictions what Samsung's product intended for sale in the European market would look like and when it was going to be released. Subsequently to the aforementioned statement by the Court, the parties had ample opportunity to present their views. Thereafter, the Court scheduled the announcement of a [post-hearing] decision for Friday, September 9, 2011, 11:00 AM [Central European Time], in room 2.122 in order to weigh the mutual arguments of the parties against each other and to give additional consideration to the Court's preliminary legal opinion in recognition of those arguments.