Samsung Transform Ultra Coming To America In October
A new QWERTY slider phone from Samsung is coming to Boost mobile this October. The Samsung Transform Ultra is a mid range phone that will set you back $229.99. Might be one to look out for if you're on this network and ready to grab yourself a new phone?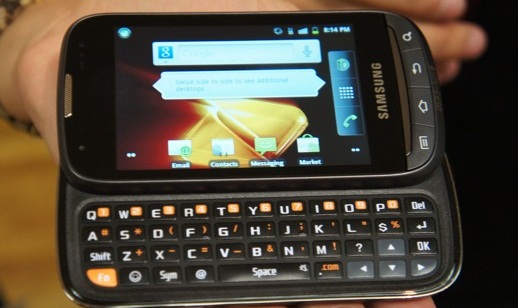 Android 2.3 Gingerbread
1GHz processor
3MP rear camera
VGA front camera
"Transform" Your Communications with the new Android-Powered Slide-Out QWERTY Phone from Boost Mobile and Samsung
The new Samsung Transform Ultra marks another industry first with Boost Mobile as the first no-contract smartphone to include the innovative Mobile ID platform
IRVINE, Calif. (BUSINESS WIRE), September 15, 2011 – Boost Mobile, ranked Highest in Customer Service Performance and Purchase Experience among Non-Contract Wireless Providers by J.D. Power and Associates1, once again enhances its smartphone lineup of Android™ devices with the launch of the Samsung Transform™ Ultra. The Transform Ultra complements the existing Samsung Galaxy Prevail™, which in four months has become the best-selling no-contract smartphone in Samsung's history. The Transform Ultra is the perfect device for the consumer who desires an Android touchscreen along with a text-friendly full QWERTY keypad."If you have been sitting on the sidelines considering no-contract plans or Android smartphones, it's time to upgrade with the latest Samsung Android devices paired with the award-winning Boost Mobile plans and customer experience," said Andre Smith, vice president-Boost Mobile. "The Transform Ultra device includes the innovative Mobile ID platform, allowing customers to get a running start in exploring Android applications and widgets based on their personal interest." The Transform Ultra, powered by Android 2.3 Gingerbread, features access to Google Mobile™ services and more than 250,000 applications through Android Market. The device has a 1GHz processor, a 3MP rear-facing camera, and VGA front-facing camera for video chat while on the go. Mobile ID The Transform Ultra is Boost's first Android-powered smartphone to come preloaded with Mobile ID, an exclusive service from Boost that allows customers to download and install "ID packs." The packs deliver a complete mobile experience, including applications, widgets, ringtones and wallpapers, in a couple simple clicks. ID packs are designed to meet a customer's individual lifestyle or interests, such as sports, entertainment, fitness and music. As only one example, the MTV Music pack is a complete music experience, bringing together the best music and pop culture apps, widgets and content on your Boost smartphone. The MTV Music pack gives customers access to the biggest stars and newest artists around the clock. Plus MTV has selected the best music apps to stream, download, identify, search and discover all your favorite music. Other ID packs that can be loaded on the device include: E!, Socially Connected, Professional, Entertainment, Lo2Yo Latino, Lo2Yo Mujer and Lo2Yo Futbol. Other Transform Ultra features include:
Android 2.3 with Access to Android Marketâ"¢
Touchscreen
Full QWERTY Keypad
3MP camera with video
Wi-Fi®, GPS and Wireless Web enabled
Front-facing VGA camera
Easy access to Gmailâ"¢ and Google Talkâ"¢
Bluetooth® capable
Speakerphone with voice-activated dialing
Supports microSD® cards up to 32GB (2GB card included)
Voice mail, caller ID, call waiting and three-way calling
Samsung Transform Ultra will be available Oct. 7 for $229.99 (excluding taxes) at Boost Mobile's exclusive retail stores, select independent wireless dealer locations across the country and at www.boostmobile.com with free shipping. The Transform will be rolling out in select retails nationwide later this year. Android Monthly Unlimited with Shrinkage Offer Coming Oct. 6 Effective Oct. 6, Boost Mobile will add an additional $5 monthly charge for unlimited data and messaging services offered on Android-powered devices. Like the existing Monthly Unlimited plan, the new Android plan includes unlimited nationwide talk, text, Web, email and calls to 411. In addition, the new Android Monthly Unlimited plan will still come with shrinking payments where the longer you stay, the less you pay. For every six on-time payments, the cost of a new customer's Android Monthly Unlimited plan will shrink by $5, eventually getting down to as low as $40 a month, only $5 more than the current Monthly Unlimited with Shrinkage. Payments do not need to be consecutive to qualify for the next savings milestone. For our current Monthly Unlimited customers, we hear you! Existing $50 Monthly Unlimited customers with Android devices as of Oct. 6 can keep their current price plan as long as they don't let their account expire. Existing Monthly Unlimited customers upgrading to a CDMA Android-powered device on or after Oct. 6, will add a $5 monthly charge on their current monthly payment without losing any of their accrued Shrinkage savings.