Samsung Release Top 40 UK Music Chart App
You've probably heard quite a lot from Samsung recently, they were the main sponsors of the Olympics over here in the UK and have made sure everyone in the country knew about it! But give them their dues, the money they pumped into the games has helped make it one of the best ever!
As well as the Olympics, Samsung have also been getting involved with music, specifically the official Top 40 UK chart with their new app appropriately titled "Official Top 40 Chart App".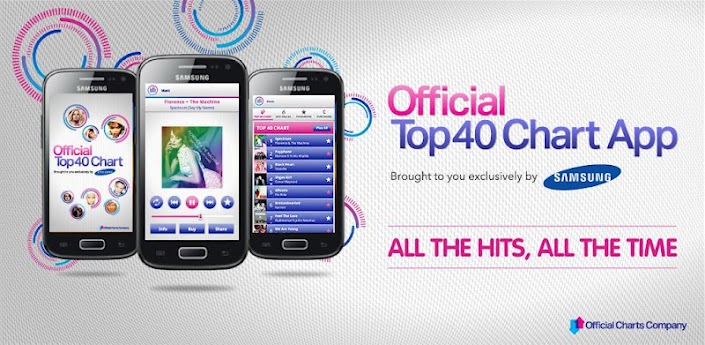 The app is pretty much all the current top 40 UK tracks on your phone for you to listen to. All the tracks are downloaded to your device the first time you log in, the app does ask if you would like to use WiFi or 3G to download (bear in mind the download will be around 50mb, so if you don't have unlimited data you might want to wait till you can connect to a hotspot!).
Once you've logged in and downloaded the tracks you get taken to the welcome screen that gives you a few options, things such as playing the Top 40 music, the current hot tracks and any tracks that you've tagged as favourites. Samsung have also included the ability to purchase any tracks you like from within the app, these will get added to a "Purchased" section within the app.
[nggallery id=53]
Along with letting you listen to music, there is also a news section with some of the latest chart news. I'm not entirely sure where these news articles are taken from or how often they are updated, but it seems fairly up to date. There are only 10 articles shown at any one time however, with no apparent way of updating or hiding the ones you have already read.
The app isn't free, well technically speaking the app is free, but you have to pay to use it. Samsung tell you that it's only £1 a week to subscribe and get offline access to the top 40 tracks on the chart, which comes out at £4 a month (which isn't too bad, not is it too great..). It's cheaper than it would cost you to get access to Spotify on your mobile, but obviously doesn't come with the wealth of music that service does. But if you really like your pop music and aren't willing to pay double the price for something like Spotify, then I'd certainly take a look at this app.
Oh, those of you with a Samsung phone also get a free trial of the app, between 2 and 8 weeks depending on your model and where you purchased it from!
You can grab the app from the Google Play store for android below.
[app]mobi.chartsnow.samsung[/app]