[Review] Official HTC One Car Kit
Car Docks are quite popular accessories given that in most of the world you can not legally use your phone and drive at the same time without one. Â Some cars may have built in Bluetooth systems however it can still be very helpful to see your phones display at the same time - even if this is just for navigation or similar apps.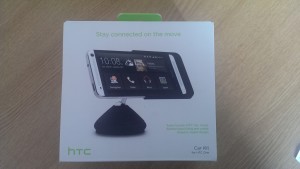 Where to Buy/Price
Mobile fun have this Genuine HTC One Car Holder and Charging Kit for£44.99 which may sound pricey, especially as it is only specific to one device, but stick with me - this review will show why it is worth the price.
In the Box
HTC One Car Holder clip

Charging Cable with optional USB/Cigarette Charger

Suction Cup and Stand

Dashboard Disk (for sticking the suction-cup to the dash rather than a window)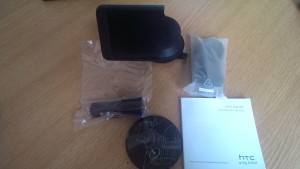 Set-up
Set-up was fairly easy, if you want to window mount then you can just use the suction pad to attach to the window, there is a locking mechanism to reduce the chances of it popping off unexpectedly.
If you want to mount it on the dash there is a small disk that can be stuck via a sticky pad to the dash which provides a clean, flat surface for the suction pad to attach to the dash - this is my preferred set-up.
After this you will have to consider how/where you want to run the charging cable, you might need to be slightly creative if you want to ensure that it is not in your way while you drive.
It can be quickly removed if you want to do so, but you might not want to remove it every time you park otherwise setting it back up will start to become a bit of a pain.
Positives
Charges at full speed - Those who have tried to charge their HTC One in a car without this dock may have realised that it does not charge at full speed - it seems HTC have limited this, which is odd - even via a normal USB port in my car it was limited without the dock. Â With the dock it allows full 'ac' speed charging via the cars USB port (if you have one) or 5v port - which if you use the phone for navigation and music then you need the extra juice.
Choice of charging options (USB/Other) - HTC have realised that a lot of cars do have USB ports these days, so have given us a choice of using USB or 5V ports to charge.
Car Mode/Bluetooth auto-toggle - Putting the phone in the dock (even if not charging, but connector still plugged in) automatically starts 'Car Mode' on the HTC One, which in effect is a fancy launcher designed for use whilst driving, it also automatically starts Bluetooth and connects to everything that it can (in my car it connects to two things, the car for phone audio and a media adapter for media). Â The car mode is a bit buggy (see negatives) but is very easy to use and is customisable.
Very good build quality - As you would expect from an official HTC accessory it has been very well-built - the build quality matches that of the official double dip cases or even the phone itself - I would not expect it to break or ware easily, which is good seen as you will be slipping the phone in and out a lot just because of the very nature of how it is used.
Negatives
Device Specific - This car dock is for the HTC One and only for the HTC One - which means when you change phone you will have to find a new dock, this is a negative but you will have to weigh the cost of this product against the time you plan to keep the One - it works perfectly for what it does, however, it would be nice if it was adaptable for use with other devices. Â Car Docks and chargers are usually accessories I try to not make devices specific but in this case there was little other choice that matched the quality of this product.
Unlocks quite easily when trying to rotate (takes some practice) - The device holder part of the dock is held to the stand by a twist lock, if you try to readjust the stand the twist lock often comes unlocked and it is not the easiest of things to re-attach, especially if you are in a hurry. Â You can get used to how it works and avoid unlocking it, but I think it could have been slightly better designed so that this would not occur.
Software buggy - The 'Car Mode' is a little bit buggy, even after software updates, but this is not strictly speaking a fault of the product and can be corrected in future software. Â An example would be using Google Navigation from the car mode icon, it causes Force Closes and doesn't make navigation to easy - if you launch Maps yourself via other methods it works perfectly. Â Another example is the 'speech mode' this is meant to let you talk to the phone to run commands, applications, send sms's etc - however this crashes on launch for me, and further then causes me to bootloop - so I have had to ensure that I never use this feature - No one else I have asked has had the bootloop problems, but no one has managed to get this to fully work either - I just removed the icon from the Car Mode launcher and turned off the launch gesture too.
Update: Speech mode is now working for me after a software update.
Conclusion
I have used this every time I have driven since installing this into my vehicle, it has given me the perfect way to control my music whilst driving (Google Play All Access) as well as introduced me to applications like Waze - which is great for work commutes. Â The product itself is very well build and works as expected with the only major downside being the fact it is device specific so in the future when you update to another phone (which will happen, sooner rather than later for some of us!) you will have to find a new car dock for that device, even if it is another HTC device.
If you are looking for a very good car dock and are not too concerned about it only working on the HTC One then this really is the best option available. Â I believe it is well worth the price.
Check out more images below:
[gallery ids="6621,6622,6623,6624"]