NIteUI: Pimp Out Your Android Phone - 4.0 Style
The new android market split us android owners into two camps, those who love it and those who hate it. There doesn't seem to be anything in the middle. Me? I love it. I think it looks cool, looks up to date and you gotta love swiping to navigate right? The darker colours also appeal to my emo side.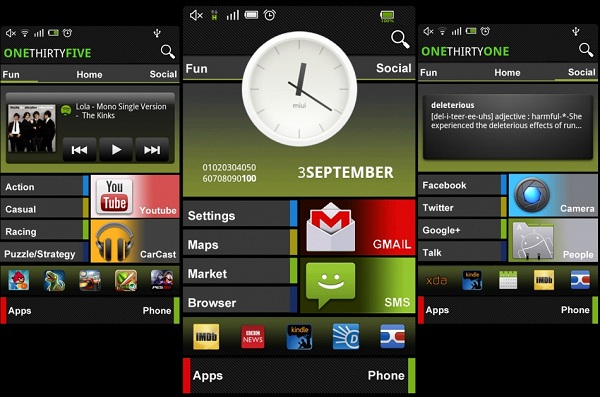 What you see above is a very funky and cool android homescreen design by @androidatnight. It's very much based on the new android market, and perhaps gives us an insight into what android might look like when we finally see the next version Ice Cream sandwich.
What else is so cool about the design, and what really does show the true power of the android platform is the fact that anyone and everyone can do this. You don't need root, you don't need a comp sci degree. Anyone with an android phone can completely customise their device beyond recognition.
If you fancy pimping out your phone like this, then just follow the instructions below:
if you want to set a dock in ADW to get the dock the dock image is here.
Download ADW EX
[app]org.adwfreak.launcher[/app]
Download multipicture LWP
[app]org.tamanegi.wallpaper.multipicture[/app]
Download these 3 wallpapers. 1 2 3 (you can replace wallpaper 1 with this one if you want it to say music instead of carcast)

Set each wallpaper, from 1 through 3 going left to right using multipicture LWP, (set transition to fade) (set to stretch to fill screen)

Download minimalistic text widget
[app]de.devmil.minimaltext[/app]
Download desktop visualiser
[app]jp.co.bii.android.app.dskvzr[/app]
Set the homescreen rows and columns to maximum, set widget overlapping and widget stretch to fit grid.

Download SIMI Folder widget and setup folders for the game categories (on left homescreen)
[app]com.th.android.widget.SiMiFolder[/app]
Place blank minimalistic text widgets on top of where there are icons on the homescreen (eg. over the gmail icon and search bar) and stretch accordingly.

Download MIUI clock and set it on the homescreen (stretch for size) also set up whatever widgets you like on the fun and social screens ( I have spotify and word of the day)
[app]factory.widgets.MIUIAnalogClock[/app]
Use desktop visualiser to set up the apps above the bottom dock.

Set the dock background in ADW (settings- theme) to blank, set dock to 5 icons, on the dock set far left two links to launch apps and set this transparent icon as the icon. Set middle to move to default homescreen, and then last two for phone calls. (again using the invisible icon)