Motorola Fire QWERTY Android Phone Announced
Motorola have today announced the Motorola Fire smartphone. Expected to be available in the UK from the end of September, the phone is clearly going after a certain market. This looks designed to go head to head with the Samsung Galaxy Pro (and obviously cheaper Blackberry phones).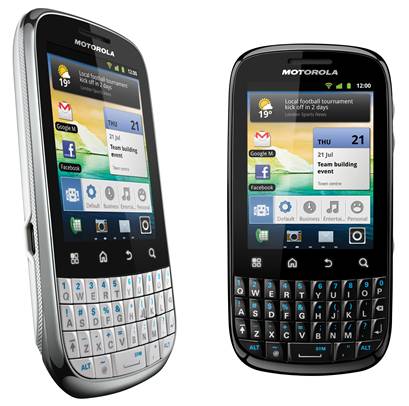 One clear benefit is the phone will ship with Gingerbread, although at this point anything less would have been a major disappointment. Expect this phone to hit networks cheaply, with thousands of sms bundled in, that's the target audience at least. The video Motorola have produced is decent though, give it a quick watch!
BASINGSTOKE, UK – Aug. 24, 2011 ─ Never compromise individuality with the new, budget-friendly Android™-powered smartphone from Motorola Mobility. The fashionable Motorola FIRE™ smartphone offers a full QWERTY keyboard with touchscreen display and ultimate personalisation options users expect from the fun and versatile Android platform. The Motorola FIRE is expected to be available in the UK towards the end of September. Motorola FIRE has a sleek, modern design and a sophisticated finish. Its full QWERTY keyboard and 2.8-inch touchscreen display provide the perfect combination of tools for emailing, texting and browsing the Web. Users can stay in constant contact with friends and family through the world's leading social media applications. Motorola FIRE also comes with best-in-class battery life, allowing users to talk, browse the Web, text, play games and videos all day long1. Motorola FIRE also has the Moto Switch user interface, which allows users to switch to a friends-centric mode when they finish work and head home for the day. "We are excited about extending our growing smartphone range in UK, and Motorola FIRE opens up new possibilities in the smartphone market. The device's stylish design and its exciting and versatile social media applications will wow younger, tech-loving users in particular," said Victoria McManus, UK marketing director, Motorola Mobility EMEA. Key features and specifications: Motorola FIRE runs on Android 2.3 (Gingerbread) Access to thousands of apps in Android Market™ Dual-band HSDPA/Quad-band EDGE 2.8" QVGA touchscreen display Full QWERTY keyboard 3MP camera Moto Switch user interface allows users to shift easily into different modes MicroSD card slot up to 32GB2 Access to Google Maps™ with Navigation, Google Talk™ and Web browsing FM radio with radio data system (RDS) support Wi-Fi conforming with 802.11b, 802.11g or 802.11n standards E-compass, proximity sensor, ambient light sensor, accelerometer Assisted global positioning system (aGPS) LED notifications 3.5mm audio jack 1420mAh battery; eight hours of talk time or 30 days of standby in 3G