More Networks Get Android Market Billing
Google has officially announced that they are bringing network billing to more networks across the world. We had already reported last month that Vodafone in the UK will be getting network billing from within the android market.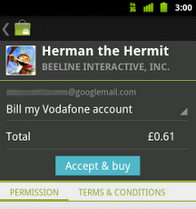 Joining Vodafone UK is SK Telecom and KT Corporation in South Korea and Vodafone Germany. The service should be live for Vodafone users in the UK, but only if you bought your phone directly from Vodafone (and your phone software is Vodafone branded.)
Direct Carrier Billing is a key payment option for users worldwide, especially in regions where credit cards are less common. We will continue to partner with more operators to offer this payment option to their Android users. Watch for more announcements in the weeks ahead.