Korean KT Announce Spider Phone: It's Hella Cool
Large Korean telecommunications company KT quietly announced its new smartphone at IFA in Germany, the KT Spider Phone. Their new device isn't just any old smartphone though, it takes the idea Motorola brought us with the Motorola Atrix and expands  on it, in some very cool ways!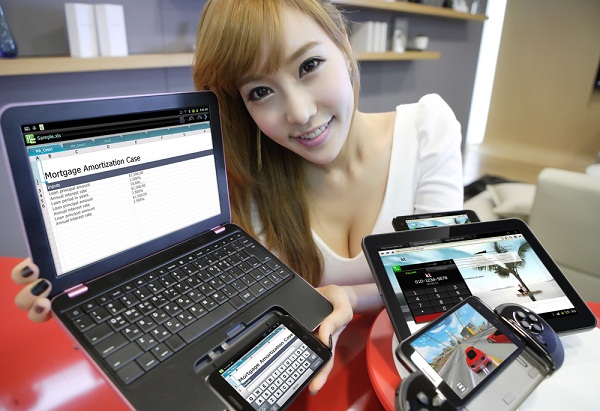 The Spider phone slots into a number of "dummy" devices  including a laptop, tablet and the most exciting, a PSP-like game console! Personally I would love one of these to play my android games on, especially as you can also hook up the phone to your large HD TV!
The full specs are:
1.5GHz Dual-Core CPU
4.5 inch wide WXGA(1280*800)
16GB internal memory
1GB RAM
8MP rear camera (1080p recording)
3MP front camera
microsd card
microHDMI
69.9 x 133 x 9.5mm
141g
1710mAh battery
Those specs are pretty juicy, I'd love to get my hands on a phone like this, but it does look like this might be a Korea-only device. We can still hope though!
[nggallery id=6]
KT(www.kt.com), the leading telecommunication company in Korea, announces that the company unveils Spider Phone, a smartphone that can be turned into various IT devices at IFA (Internationale Funkausstellung Berlin) 2011 Consumer Electronics Fair in Berlin, Germany, from September 2 to 7. Spider Phone can be connected with various different screens such as tablet PC, laptop and game kit etc. Those devices do not function stand alone, because they are not loaded with neither CPU, OS nor memory. However they do function with physical connection with Spider Phone. Not only Spider Phone can provide mobile office environment linked with ucloud service but also connect with tablet PC or laptop, which enables to edit and manage documents. Additionally it can give a wide variety of game experiences for users through its 4.5-inch screen and well optimized keys to control the game kit comfortably and easily. Spider Phone will be launched this November developed by KT who started the project last November. With the launch of Spider Phone, KT expects to solve many issues, including high costs of buying multiple IT devices such as a mobile phone, a laptop and a tablet. Also it can relieve the possible stresses of complicated usage of IT devices such as difficulties in managing data. The company also stresses that Spider Phone can surmount the small screen problems of smartphone by combining with external kits. KT expects that Spider Phone will help the company and other manufacturers to enhance their global competitive edge based on the phone's capability to expand into the N-Screen service easily and affordably. Especially the key sources of hardware and software interface are disclosed, making any company manufacture external kits that can be connected to Spider Phone and ultimately helping promote the industry – Device Ecosystem. KT plans to pave to create an environment where a single smart phone can control all information and devices around it by even linking with non-IT industry products such as health care devices etc. Run by Android OS, the phone features a 4.5 inch wide WXGA(1280*800) high-resolution display to offer tablet PC and laptop-like experiences and a 1.5GHz Dual-Core high-performance CPU that allows fast document editing, web browsing, and video playing. Additionally it has large-capacity battery(1710mAh) and Full HD supported camera. "Spider Phone is an innovative device that can impress the global smartphone market, and I'm sure it will draw a lot of attention at IFA," said Kyeong-Soo Lee, Executive Vice President of Device Strategy Department, who supervised the development of Spider Phone. "KT has already offered leading companies in Korea to build a new device ecosystem together, and I hope we will get a lot of favorable responses at the event" KT also presents the ucloud storage service along with Spider Phone at IFA. KT launched ucloud service which for individual users, in July last year, and subsequently ucloud servers, VDI(virtual desktop interface), CDN(Contents Delivery Network) and storage. DB and backup services are under open beta test. KT's cloud service features full line-up infrastructure, which cannot be found in any other local competitors' services. Any service related to IT infrastructure is available, and IT infrastructure can be established over the net within five minutes, which would otherwise take a whole week when using IDC hosting service. Besides speed, ucloud's rates and performance are equally impressive. Cloud Harmony, a cloud market research firm, revealed that KT ranked first or second in five performance areas among 20 major cloud service vendors including Amazon and Rackspace.