HTC Jetstream Announced: 10.1" Honeycomb Sense Tablet (Formerly HTC Puccini)
HTC have just announced their new tablet, the HTC Jetstream (aka the HTC Puccini), coming 4th September on AT&T in the USA, the tablet will cost $699.99, which sounds quite expensive to me. Have HTC not learnt from the Flyer pricing?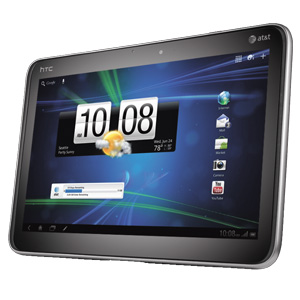 The Jetstream will have a 10.1" WXGA HDscreen, android 3.1, dual core 1.5Ghz Snapdragon CPu, Dual LED 8MP camera and a huge battery. It will also be running Sense on top of Honeycomb! I'll be fun to see exactly what HTC have come up with for the UI. The tablet will also support HTC's scribe pen.
New HTC Jetstream™ Tablet Available Exclusively To AT&T Customers Company's First 4G LTE/HSPA+ Tablet Available Sept. 4 Nationwide First Tablet To Feature Android™ 3.1 (Honeycomb) Key Facts Customers can purchase HTC Jetstream, AT&T's* first 4G LTE/HSPA+ tablet, online and in company-owned retail stores starting September 4. HTC Jetstream is HTC's first tablet running on the Android™ 3.1 (Honeycomb) operating system which was specifically built for tablets. Tablet features a 10.1" HD display, Snapdragon 1.5 GHz dual core processor and front and rear facing cameras.
For the first time, AT&T customers can receive discounted tablet pricing after committing to a two-year agreement for a new $35, 3GB monthly data plan. For a limited time, HTC Scribe ™ – an optional digital pen accessory- will be available at no additional cost. Customer Benefits Exclusive to AT&T customers, HTC Jetstream is the company's first 4G LTE/HSPA+ tablet. It runs the Android™ 3.1 (Honeycomb) operating system and represents the first iteration of the HTC Sense™ user experience on Honeycomb. HTC Jetstream boasts a large 10.1" WXGA high-resolution display for an immersive entertainment experience, third-generation Snapdragon 1.5 GHz dual core processor for fast multi-tasking and instant screen refresh. A rich web browsing experience supports Adobe® Flash® Player and an enhanced HD video experience with1080p playback and capture. The tablet is also compatible with HTC Scribe™ – an optional digital pen accessory, which is sold separately, – for content creation as well as Evernote integration for storing your documents in the cloud. Additionally, HTC Jetstream is preloaded with services optimized for the tablet such as AT&T Family Map, AT&T Navigator ®, HTC Watch™, HTC Hub, Friendstream™, Android Market, and much more. Android 3.1 (Honeycomb) HTC Jetstream is AT&T's first tablet to showcase the Android™ 3.1 OS. The brand new operating system was designed from the ground up for devices with larger screens. It improves on Android favorites with new interactive and resizeable widgets plus improved multi-tasking, browsing, notifications, and customization. The new version of the platform also features Google Maps 5.0 with 3D-like interaction, access to over three million Google eBooks, incognito mode for browsing internet with no history tracking and Google Talk with video chat over Wi-Fi. Quotes "This tablet is a beautiful 10.1-inch, LTE powered masterpiece," said Jeff Bradley, senior vice president, Devices, AT&T Mobility and Consumer Markets. "When you combine powerful options like HTC Jetstream with our upcoming LTE technology and nationwide HSPA+ network, it flies." "HTC Jetstream combines the acclaimed HTC Sense experience with Android Honeycomb to provide an innovative and engaging experience on a 10.1 inch tablet," said Martin Fichter, acting president, HTC Americas Region. "Paired with AT&T's upcoming 4G LTE speed and mobility, HTC Jetstream delivers connectivity for social and entertainment needs alongside productivity and creativity tools in a portable package." Price and Availability On September 4, the tablet will be available exclusively to AT&T customers online and in company-owned retail stores for $699.99 with a new two-year contract. AT&T postpaid tablet customers now have a new $35, 3 GB monthly data plan option with a two-year contract. Customers who do not choose a long-term commitment may still select one of two existing monthly billing options: Postpaid: $14.99 for 250 MB or $25 for 2 GB. Customers on the 2 GB plan who exceed their monthly data allotment will be charged $10 per 1 GB of overage. Charges will appear on customers' monthly wireless statements. Prepaid: $14.99 for 250 MB or $25 for 2 GB. Customers on the 2 GB plan who exceed their monthly data allotment may choose to purchase an additional 2 GB for $25. Charges will appear on customers' credit card statements. Offering the simplicity of a single bill, the postpaid option will show up on customers' monthly wireless bill after the data is used. The new postpaid billing option will be available online at www.att.com and across AT&T retail locations. For more information, please visit www.att.com/jetstream. HTC Jetstream Specification LTE (700/AWS) HSPA+/HSPA/UMTS (850/1900/2100 MHz) EDGE/GPRS (850/900/1800/1900 MHz) Android 3.1 (Honeycomb) HTC Sense™ UX for tablets Display: 10.1" WXGA HD screen Processor: Third-generation Snapdragon 1.5GHz dual-core processor Camera: Front Facing 1.3 MP, Rear facing 8 MP and Dual LED Flash Battery: 7,300 mAh Expandable Memory: MicroSD up to 32 GB Dimensions: 7" (l) x 9.87" (w) x 51" (d) Weight: 25 ounces