Great ICS Experience on Galaxy Note
I bought my first Android phone, for that matter, my first real smart phone in February 2011. Yes, I was a late entrant. It was the HTC Incredible S, and incredible it was. I learnt fast and a few months later realised that I needed a much better phone. Finding the right phone got me reading a lot of reviews and watching endless number of videos. Yes, I had become a phone fanatic. I decided to opt for a phone from the Galaxy Series.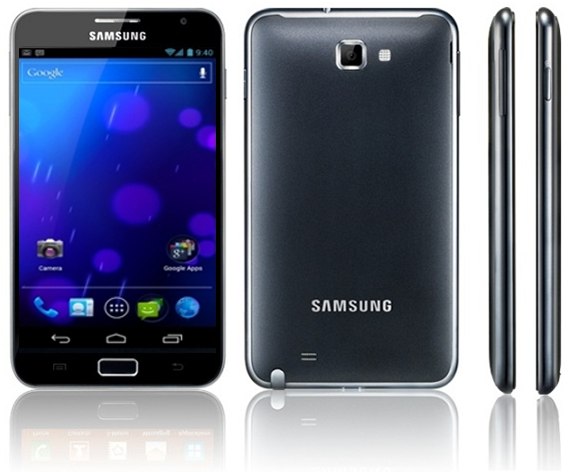 A Brief History
I bought my Galaxy Note in November after 15 days of deliberation whether I wanted to get the Galaxy Nexus with the latest Google dessert, or go along with Samsung's gargantuan phone, not just in size but on all counts of hardware specs. Samsung had just released a statement that the Note would be upgraded to Ice Cream Sandwich (ICS) or Android 4.0 in Q1 2012. This statement swayed me from the Galaxy Nexus to Galaxy Note.
The Note opened a whole new world for me; I had bought a phone that made me feel no need of getting a tablet. Samsung's TouchWiz on Android Gingerbread worked just fine. It was a winning combination and probably the best phone OS after ICS then. I had such a quality time toying with the phone, trying out apps, playing with the S-Pen and in general rocking a, for lack of a better word, kick-ass, phone.
The Predicament
Soon, developers had begun focussing on designing apps suited more and more to ICS, and I started losing sleep over my decision not to go for a phone with ICS. Then the inevitable happened. Samsung announced that the upgrade for the Note to ICS was pushed into Q2, obviously without any fixed date. They decided to compensate the delay with a Premium Suite of software for the S-Pen, which in an awesome feature in its own right.
That was that. I decided I could not, should not, and would not wait for Samsung to tell me what dessert I could enjoy and when. As with any new flasher of custom ROMs, my first stop was Cyanogenmod but found it extremely complicated to actually find a ROM even under development as the Note was not supported neither for CM7 (Gingerbread) or CM9 (ICS). Enter XDA.
The Solution
I searched and many a rave reviews pointed to one ICS STUNNER ROM. The name itself had an allure to it. 'Stunner for Note' seemed like a match made in heaven. I finally landed on the XDA ICS Stunner Forum Page. Followed the instructions very obediently, and it took about 10-15 minutes at the most and I was with ICS on Galaxy Note. Yes, ICS on Galaxy Note. Such a rush!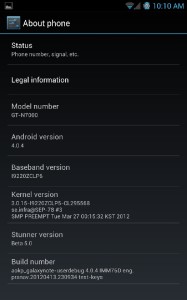 The Experience
It has been over 48 hours that I have been toying around with ICS on the Galaxy Note and can say that this is definitely the best experience I have had for a very long time on a phone/tab. I will not into describing how ICS feels and works. There are tonnes of reviews on that but how ICS feels on the Galaxy Note. Oh my, it is just awesome. Apex Launcher comes built-in with ICS Stunner and is top-notch. It feels so smooth and is real zippy. The screen transition is spectacular, the dock is customisable, and so is the app drawer. All widgets can be resized and it supports stack widgets as well. Owing to the sheer performance of the launcher, widgets have found a way back on to my home screens. As below:
The Dialer is classy, and the magazine style layout and feel of the People app (erstwhile contacts) is orgasmic. Of course, lack of high res pictures for contacts made it a tad bit disappointing. I wasted no time in buying HaxSync, an app from the Play Store (Android Market). Once it had synced Facebook contacts with my other contacts, I was into a different world. Full-screen Caller ID pictures at a very decent resolution, great People app to look at. As even just a phone, it was the works.
ICS brings a lot of its own excellent features – the best browser, an excellent task manager, removable notifications, much improved keyboard (although I still prefer SwiftKey Beta 3 or Swype), better voice to text, and a much better battery performance. ICS has a very clean look to it, and is minimalist at places where it should be. Now, pair all that up on a phone with a massive SAMOLED HD screen and there's a phone hard to beat (at least till May 3rd). Yes, the ICS on Galaxy Note is just a bit more delicious. And yes, excellent lock screen.
This is a beta and am sure there will loads of fixes and performance will probably be boosted by at least a 33%. Despite that, it is still a great experience. I have heard people say ICS on Galaxy Nexus is great and all. This is a beta! Just the thought of the kind of experience official CM9 will bring to the Note brings a wide smile to my face.
Performance Stats
The only stats I have and can provide are for quadrant standard and battery performance. Quadrant standard can be understood by the screenshot, so can the battery performance. It is only my first full day without a charger nearby and I took the phone off the charger at around 11:15 AM. It is 22:30 right now.
I still have 44% juice remaining. The screen had been on for 2 hours 40 minutes. I have had voice calls totalling 54 minutes. The day was spent mostly at office so there was WiFi. Gmail, Twitter, Facebook are all on Push Notifications. All social apps have a refresh cycle of 1 hour. I updated a few apps from the Play Store as well, in addition to using the XDA app. Most on-screen time was social apps, emails, messages, and XDA.
Do feel free to leave your comments below!