Google+ Updated: Sharing Posts Added
Google have updated their Google+ android app with one main new feature, the ability to share a post. This is one of the more fundamental features of Google+, so personally I'm surprised it took them this long to add it to the android app.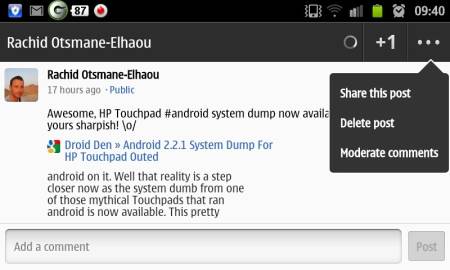 Along with the major change, come lots of little bug fixes, full list of changes given below:
Reshare a post
App now available in 38 languages
Incremental improvements to notification reliability
Clearer Instant Upload options in the initial setup dialog
Bug fixes: Eliminate Instant Upload duplicates on HTC models , fixed "No name" issue in Huddle, hidden 1:1 huddles now reappear when new msgs are sent, fixed issue with notifications count changing when switching from portrait to landscape
Other performance fixes and minor UI tweaks
Grab the update from the market here.
[qr]https://market.android.com/details?id=com.google.android.apps.plus[/qr]