Google Play Weekly Downloads [May 18 2012]
Hello my name is Richard aka DroidExaminer. Here at Droid-Den on every Friday, I will give you a review on a couple of Google Play gems that I feel are worthy of a download. Here are this week's must downloads.
1. KD Collage Pro by KDN Soft [Free] Pro [$1.49]
"Beautiful collage is easy" is definitely KD Soft's key feature in this well-developed app. In a tech world where Instagram is trending on all handsets, this nifty little collage app can make beautiful pictures into a great collage. You have so many options at your disposal. (I currently am reviewing the Pro version). I had looked at the screens for the free version and noticed that to export into the highest quality which was 1620 x 1080, I had to purchase the pro version. It was only $1.49 so I jumped on it after reading some more reviews.
This is an excellent collage app with so much depth and features. You have numerous layouts for 2-4 photos, 5-9, and multiple photos. You can even just fancy up borders around a single photo. You can also change the layout so that it is Instagram friendly. you can add text, add stamps, and backgrounds to fill in the cracks between pictures. You can even upload your own background. This is a great app with a lot of potential I highly recommend the Pro Version. Not sure about what you are limited in the Free besides output quality, but for me that was enough for me to buy it. Check out this collage i did using the app and my photos from Instagram. Download it!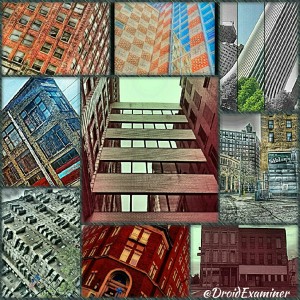 [app]ru.kdnsoft.android.collagefree[/app] Â [app]ru.kdnsoft.android.collage[/app]
2. Gunman Clive by  Bertil Hörberg [$1.99]
Reason 35 why you need to follow me on Twitter @droidexaminer . I usually cannot stand the Amazon App Store. One of the reasons was due to its notification of updates and new games. It bothered a lot. Recently an update seemed to fix this with notifications alerts options so I have been a little more ok about using the app store. Every now and them they deliver a great game for Free during its Free App of Day promotion they do daily. Gunman Clive i noticed in the wee hours the others really late. I noticed all the positive reviews so i downloaded it. After the first level I tweeted that every one must download it. This game is fun.
You first notice the graphics which are done as sketched ut drawings. It's primaraily in orange and yellow but it works for the western vibe it is portraying. Simple buttons shoot , jump, and Left and Right Arrows. Awesome 8 bit soundtrack added in the mix and you have a nice western platformer. You go about each Stage just basically shooting bandits, shooting ducks and pelicans for health, and jumping from roof to roof. There is some skill also. there are falling platforms, bandits that throw bombs, and bandits that hide in windows and floor holes shooting away. There are even level bosses too. Â You can power up your weapons which quick power up, or even regain health by eating some cake. All in all a very cool game Sad you didn't pick it up for free? i highly recommend you buy it. $1.99 is cheap compared to a lot of $4.99 games in both App Markets. Great sidescroll platformer Download it!
[youtube http://www.youtube.com/watch?v=-SNhOhmO0PE] [app]beril.mootor.gmc[/app]
3. Machinarium by Hothead Games [$3.99]
Go ask your parents, look in your couch, check your pants pocket now. If you have $3.99, the there is no reason why you should not have this game use all of your time in the day. This game is by far my favorite game of all time. I have been playing it for about 2 months on and off since I first purchased it in the Blackberry App World for my Blackberry Playbook. I was wondering if it would reach other platforms seeing that it originated on the PC, for awhile and finally it hits the Google Play Store.
Now first thing I will definitely point out is that all of this game is hand drawn. Yes you have a bottom to top hand drawn dark looking machine like world. It is by far very detail. This game is definitely also a puzzle platformer like game. it is very unique in its own way. The first level after playing got me stuck for a while. So you will definitely need to use all of brain, but that is the fun part. One level had me looking for a battery that was double sized. In my inventory i had 2 single batteries and 1 long adhesive string. It took a while to figure out to combine them all to make 1 double battery. You move the little robot character through each level by touching a portion of the screen. Depending on where you touch he will either interact with what you touched or shake his head no meaning that there is no use. You can stretch him up to be taller and squish him down to be shorter. He places objects you can collect which will help you along your journey inside his mouth. Once they are in there, you can see them on a side bar on the right of the screen. You also have a hint for each room or level you reach and if things get really difficult, you have a mini rocket ship shooting spider-like game that when completed will give you a visual blueprint on how to solve puzzles and or complete tasks.
This is a great game with hours of thinking and lots imagination put into detail. Please download it and support great works like this to continue to be Android bound in the future.
[youtube http://www.youtube.com/watch?v=1nBYttZbyO8] [app]air.net.machinarium.Machinarium[/app]
Check Me Out below!!
Google +