Gmail For Android Updated
Gmail for android has just received an update to 2.3.5 (it seemingly only supports froyo+). The new update brings a few nice features to the app, a few I have been wanting personally for a while now.
The official list of updates from Google are:
Save bandwidth and battery by only syncing priority mail
Use label notifications to mash up filters, labels, and ringtones
Remember 'Show Pictures' for senders
Turn off sticky message actions in landscape or all orientations
Better TalkBalk support for accessibility
Performance improvements
My favourite from that list is the custom notifications per label, something I know a lot of you will find very useful, and the remember show pictures option. That one used to be such an annoyance!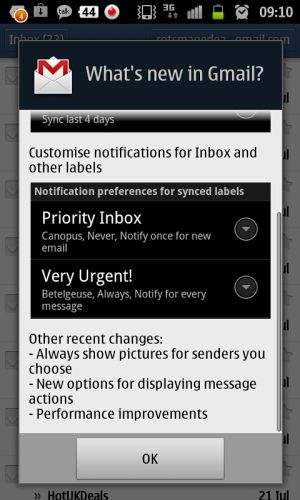 The update should have been pushed to you automatically, but if not simply visit the market and grab the update!