GameTel Game Controller Accessory Coming to Android
Swedish company Fructel is about to unveil their new android mobile phone peripheral, aimed towards the gamers amongst us. The new accessory goes by the name of GameTel, and gives you the ability to play your favourite android games using a gamepad rather than the touchscreen you might be used to.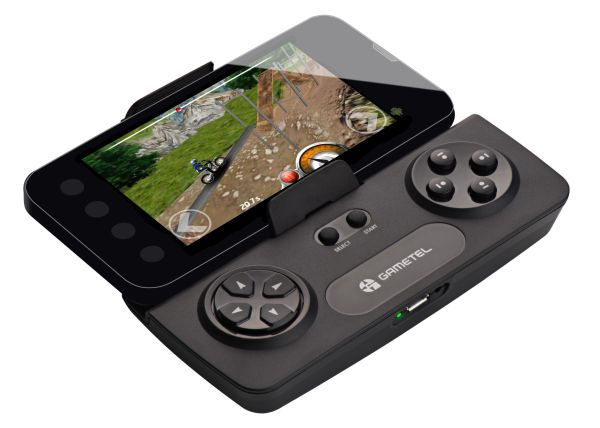 The device certainly looks the part from the images we've been sent. The matte black styling should compliment most phones out there. The gamepad connects via the bluetooth on your phone, but does require a minimum of android 2.1.1 (which most of us should have by now anyway...right?).
It's set to go on sale early December for £49.99, and could make a decent Christmas present. The only other thing to mention is game compatibility, I believe it should work with those games that are Xperia Play optimised.
I'll be hopefully getting my hands on one of these soon to give it a test, and I'll be sure to give my comparisons against the Xperia Play too, so check back then!
[nggallery id=14]
Gametel: real gaming for Android
Wireless gaming peripheral brings console-style controls to smartphones and tablets
Lund, Sweden, 17th November. Fructel, a gaming peripheral company, announces the launch of the Gametel, a wireless controller that transforms your Android smartphone and tablet into a portable games console. Designed for both casual and hardcore gamers, the Gametel enhances mobile gaming, bringing a level of gameplay accuracy never experienced before on a touchscreen phone. Compatible with Android smartphones and tablets running Android 2.1.1 Éclair or later, Gametel connects to the device via Bluetooth while a built-in adjustable spring-loaded clamp allows secure docking of any Android handset. Once paired the Gametel automatically connects to the device every time it is powered on. With a familiar controller design, Gametel's D-pad, quartet of buttons and two shoulder triggers replicate console-style gaming controls; an impressive nine hour battery life provides more than enough playing time for long journeys and weekly train commute. Over 50 compatible games are available now to download from the Android market, including popular titles like Cordy, Asphalt 5 HD, Reckless Getaway, Guns'n'Glory, MotoX Mayhem, Happy Vikings and Zenonia, with more games being added every day. Bo Nyman, CEO of Fructel says: "Playing casual games on a touchscreen phone is fine but when it comes to playing the more addictive and immersive titles, seamless gameplay is impossible. The Gametel controller overcomes this problem by delivering a console experience on your Android device, freeing the screen from fingers, opening up a bigger viewing area and delivering more responsive physical controls." With many of today's Android smartphone and tablets featuring built-in HDMI connections, mobile gaming can also be brought to the big screen. Hook up an Android device to an HDTV, wirelessly connect up to four Gametel controllers and you can bring your favourite mobile games into the living room with a console-like multi-player set-up. Gametel has an RRP of £49.95 and is available to buy from early December. Please see
Gametel.co.uk
for further information.