Gameloft Club Announced: 1 Game Every Month For 99p
Gameloft have just introduced a new scheme called Gameloft club. Available for UK android users only, it lets you download one game per month for only 0.99p. That's a lot cheaper than Gamelofts current prices. It doesn't seem like you have to pay anything to join the "club" either, so it's a win win situation for android game fans.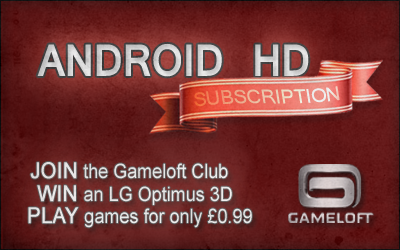 As a special one off treat, they are also giving you a free game when you register for the first time (as long as you buy one game for 99p). It also seems to be limited to android handsets that qualify as "HD". To
To activate a Gameloft Club subscription, simply visit www.gameloft.co.uk on your Android HD device and click the "Club Buy 99p" link next to the game of your choice – there is a whole range to choose from
They have also created a contest in the hope of getting people signed up. If you register for their Gameloft Club between now and midnight Monday 29th August, you will be in with a chance of winning a new LG Optimus 3D. I've had a play on some 3D games on that phone, and was very impressed, so it might be worth your while signing up.