Accessory Review: Samsung Galaxy S III Vent Case
Samsung's own vent case was launched at the same time as the handset in the UK. What is it like? How well does it protect? Is it worthy of protecting such an amazing device as an S3? Find out after the jump!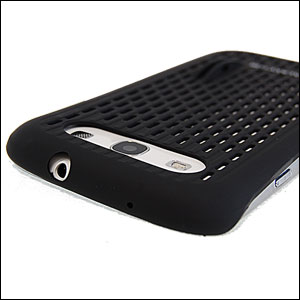 Now trust me when I say I am a firm believer in protecting handsets with a suitable accessory. It's what I recommend every day at work to customers. However I am very specific on the type of cases I personally like. It HAS to be leather, it HAS to be a slip in case and it HAS to have a little pull-toggle to bring the phone out. That is what  I have had on my last 5 phones and by golly I was having it on my S3.
So imagine my utter horror when, after trying nearly every slip in case in the shop where I got it from not a single one of them fitted my marble white super-computer that was just about ready to come home with me. I can honestly say I felt a little bit of a panic set in, the type that you have all felt in the past, a somewhat cold-sweat thinking that I am going to have to let my phone ride bareback, or worse having to put some truly awful case on it. After much grumbling and a little hissy-fit I decided to take the Samsung original case.
This case spent the next 2 days stored in the plastic bag all my documents and phone box was kept in stuffed in the cupboard not seeing the light of day. I was holding a silent protest. A war between my own hatred of any case that stays on the phone and makes it look different to how it was meant to look and the other side that under NO circumstances could I allow a single knock, scratch or drop happen to my new shiny toy!
In the end I had to swallow my pride and I took the case out. My first impression was "ugh, this thing is disgusting, but needs must" but I am going to be quite honest I have completely changed my tune on this case and cases like this in general so I thought it would be best to write a review on it for you all.
Look and Feel
The case is extremely thin and light. The "vents" in the case give it a very unique look and when it is on it really doesn't add much size at all which is a good bonus. It wraps from the top to the bottom of the phone and leaves the sides open to get to buttons etc. There are holes in the top and bottom for the headphone jack and charging port and a big hole in the back for the camera, flash and speaker.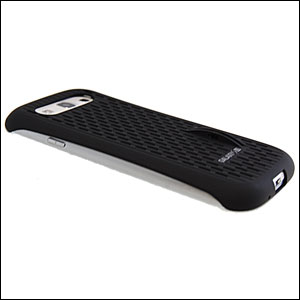 Protection
The protection the vent case gives is not the maximum protection you could get but it is certainly sufficient for everyday knocks bumps and scrapes. This isn't going to give massive protection for a 3 foot drop onto concrete but it will probably protect against a hand slip etc. It gives the extra level of protection whilst still being able to see the majority of the original form of the handset and maybe in all honesty adding to the look (whether the addition is good or bad I leave up to you!) It also slightly protrudes at the top and bottom so that if you do put it on a flat surface faced down it will not rest on the screen it still rests on the case which I find particularly useful.
Features
Other than giving that extra protection as mentioned above, the best extra feature this case gives is a little bump on the back. Now this isn't just any ordinary bump, oh no my friend this bump is an ingenious way of putting a desktop stand into your phone! All you need to have is a significantly sized coin (here in the uk it works best with a 10p or 50p) You can set the phone down either way to get one of 2 different angles and it works really well. The only downside to this is that, because of the aforementioned lump, the phone does not sit down on a desk or table properly and makes it have a little bit of a "wobble". I personally have not found this an issue but I know that with other people this has been the difference between using it or not.
In summary this is a very efficient little case with a nice surprise as an added extra! The only downside being the stand lump on the case which is a great addition, however lets the case down in the form factor.
You can find this and more Galaxy S3 cases over at MobileFun!